Miss Karen!
ON STAFF SINCE 1984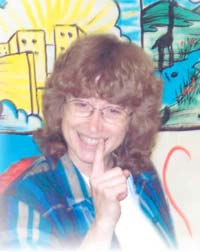 I was privileged to be born and raised in a Christian home and attend church from the cradle role on. I trusted Christ as a preteen and attended as a young adult. It was there that I was introduced to Open Air Campaigners. Being of a shy nature, I was definitely not interested in outdoor evangelism, but God had other plans. I was assigned to a 10-day evangelistic trip to New York City with the staff of OAC. After graduation I explored other options, but God brought me back to full-time work with OAC in Philadelphia in 1984. It took several years of working behind the scenes to discover that God had gifted me to work with children.
As a result of taking a course on teaching children, effectively offered by, I began working with the CEF ministry on loan from OAC in 1998. This opportunity of teaching children's clubs several times each week allowed me to develop my own unique style. The mix of these two ministries resulted in exciting Bible stories illustrated on a sketchboard capturing the attention of young and old alike.
In September of 2006, I transitioned back to full time with Open Air Campaigners and continue to present the Gospel to children as well as teach others to use the techniques I have learned. Chris and I were married in May of 2012 (see "Our Story" for details on how God worked in this area of my life!).
If I can be of help to you or your church, contact me.
My Ministry Vision
"Your zeal has provoked many." (2 Corinthians 9:2)
It is my vision to use my gifts and abilities to reach children for Christ. Zeal as it is used in the above verse means diligence and enthusiasm. I want to use the diligence and enthusiasm God has given me to "provoke" children to trust Christ and to "provoke" and to reach children for Christ as well.
BIRTHDAY: 6/20