ON STAFF SINCE 1996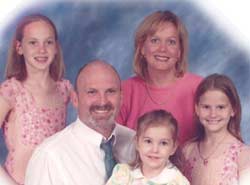 Peter was saved at age 10, through the influence of Paul Merritts, a pastor in Washington's Georgetown district whose church was on young Peter's paper route. The pastor befriended him as a young lad who had received little spiritual nurturing at home and led him to Christ. Peter's father left home about the time he was saved, and without a father's good influence, he eventually fell in with the wrong crowd. He used drugs and there was even a time he slept on the streets of Washington. He knew all along he was straying from the Lord.
In March 1978, Peter was in an auto accident. Of six people in the car, he was the only one injured. His neck was broken in two places. When he woke up in the hospital, he knew he would be paralyzed but he also knew God was giving him one more chance.
A year later, he was making A's and B's as a pastoral ministry major at Liberty Baptist College in Lynchburg, Va. It was there he met Isabel Driscoll and persuaded her to add an O' to her last name.
Peter and Isabel joined the staff of Open Air Campaigners in 1996 working in the greater Orlando Florida area.
Anniversary: 7/28/84
Peter 7/31
Isabel 7/18
Katie 7/14/91
Michaela 5/22/94
Anastasia 4/20/99