ON STAFF SINCE 1991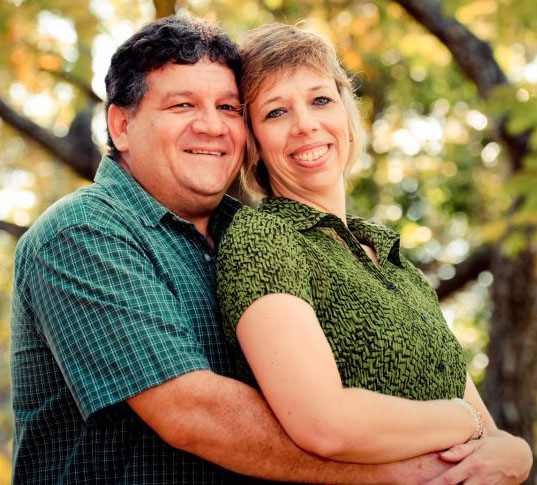 Juan grew up in an evangelical, Christian home in Paraguay, South America. He grew up believing he was a Christian because of this, and finally, at the age of 18, he realized that he was completely lost and that he needed to ask Christ to forgive him of his sins and come into his life. Shortly after, he was baptized, and in 1987, headed to Word of Life Bible Institute where he studied music and evangelism for two years. During that time, God grabbed his heart towards missions in an open-air evangelism class where David Wilson was his teacher. In 1991, David Wilson came to Paraguay to help Juan begin Open Air Campaigners. Juan has been heavily involved in several types of outreach since then.
Dawn accepted the Lord as her Lord and Savior when she was in third grade through the ministry of Child Evangelism missionaries in Korea and was baptized in her early years of high school. She went to Paraguay in 1990 to teach in a Christian missionary school and met Juan just two days after her arrival. They were married in November of 1992 and have been blessed with four beautiful children (Wesley in 1994, Ashley in 1995, Jessica in 1998, and Alicia in 2007).
After serving for 22 years in Paraguay, Juan and Dawn felt that the Lord was bringing them to the United States. They began praying and waiting upon the Lord for His timing. The doors were opened, and they moved to Tyler, Texas at the end of 2012 to be part of the OAC/USA Texas work with Rick and Dovie Moore. They are excited to see how the Lord will use them in the days ahead and what doors He will open for them for ministry in Texas area.
Anniversary: 12/28/92
BIRTHDAYS:
Juan 6/23
Dawn 7/24