On Staff Since 2000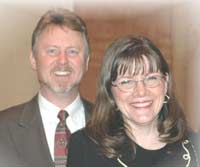 Chip and Kim came to know the Lord on the very same day back in 1993 after a co-worker invited Chip to a local church service. Since that time, the Lord has used them in door-to-door ministry, youth work and short term missions. Highlights of their Christian service involvement include outreach at the Olympic Games in Atlanta during 1996 and an evangelistic trip to the Philippines during 2000.
It was at a training and outreach event in upstate New York that the Wolfe family found out about an effective open-air evangelism method using a sketchboard. The board was used to visually present the gospel message. Chip felt God's leading to pursue full-time involvement using this type of evangelism and was introduced to Open Air Campaigners. He and Kim have been on staff since 2000.
Chip's ministry includes providing pulpit supply, leading effective open-air outreach, conducting one-on-one witnessing instruction, setting up evangelism training, being involved in Vacation Bible School programs and participating in missions conferences.
Chip and Kim currently minister in our Texas branch.
Anniversary: 5/1/93
BIRTHDAYS:
Chip 4/29
Kim 10/15