ON STAFF SINCE 2010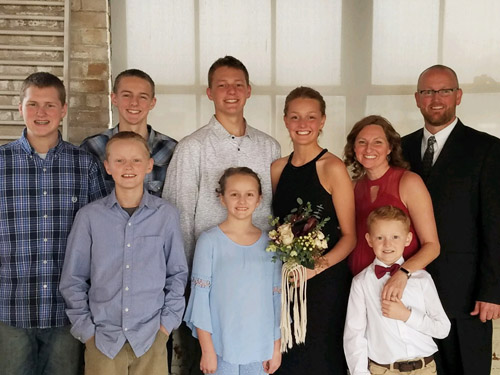 Staff evangelist, Brian Harmon, praises God for the privilege of growing up in a home where the gospel took center stage. His father was an itinerant preacher for over 30 years. Traveling was a part of the norm. Brian's Mom homeschooled him, his older brother, older sister, and younger sister.
At six years of age, Brian responded to the gospel in faith. During an AWANA program, he heard that God's judgment is coming on sin. Concerned, he later asked his mother how he could be saved. His Mom shared with him the simple gospel, "Christ died for our sins, was buried, and rose again the third day" (1 Cor. 15:3 & 4).
God continued what He had started in Brian's young life. (Phil. 1:6) He served as a camp counselor three summers and has been on short-term mission's trips to Mexico, Russia, Malawi, and Bolivia. Sensing a call to ministry since before he was married, his desire was to share the gospel with those who probably would not find themselves in a church. After high school, Brian worked in the trades for a couple of years before going to Pensacola Christian College for one year. At college, he met his future wife. He and his loving wife Kimberlee were married in 1997. In 1999 their first child was born. God has blessed them with seven children, and recently added a son-in-law and a daughter-in-law. Prior to going into vocational ministry, Brian owned his own residential building company.
Brian and Kimberlee are very active members in their local church. He was introduced to Open Air Campaigners through Eric Briscoe, who has been a family friend since Brian was eight or nine. In fact, Brian remembers sitting on the mat as a child in an open air meeting as Eric Briscoe preached the message. He finds it interesting that God has moved in such a way that he is now the man with the paint brush sharing the board message!
God has called Brian to "do the work of an evangelist" (2 Tim. 4:5). He loves equipping the saints while reaching the lost with the glorious gospel of Jesus Christ. In 2009, Brian participated in the OAC open air training located in Boston. He and his wife Kimberlee were appointed to staff in 2010. He serves with OAC as a branch director in Michigan and as the National Field Director.
A verse God used in calling Brian to go full-time, "…I am sending you to open their eyes, so that they may turn from darkness to light and from the power of Satan to God, that they may receive forgiveness of sins and a place among those who are sanctified by faith in me." (Acts 26:17, 18)
"Until the net is full" (Brian's common sign-off)
ANNIVERSARY: November 1, 1997
BIRTHDAYS:
Brian – July 13
Kimberlee – July 8
Ellianna – February 26
Silas – May 30
Lydia – July 4
Titus – June 25
Eli – October 12
Isaac – May 14
Ezra – February 17