ON STAFF SINCE 2009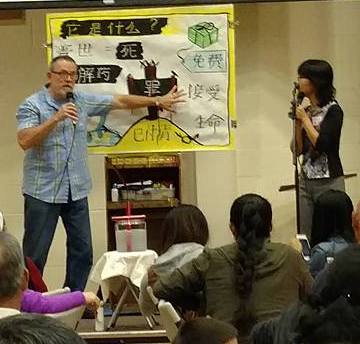 In spite of growing up in a large denomination church, Tom did not understand the gospel message found in the Bible.  Tom was active in youth group and choir and still lost in his own world of sin.
Turning away from church after high school, Tom slipped farther away from any pursuit of God.  His oldest brother made several attempts to witness to Tom to no avail. Eventually Tom gave in to an invitation to church and figured it would put a stop his brother's insistent prodding to tell him about spiritual things. It was there at Webster Bible Church that Tom clearly heard and responded to the gospel turning his life over to Jesus Christ.
Tom entered into immediate discipleship with the leadership at Webster Bible Church and desired to learn more how to serve God.  Leaving Webster Bible Church in Webster, NY, Tom earned a Bachelors' degree in Christian Education at the Washington Bible College in Lanham, MD. It was there that he developed a love for evangelism and would go out with student teams into Washington DC, with Open Air Campaigners.
After college Tom found himself in the business world, which was a different mission field than he had anticipated. After God worked in Tom's life for 20 years in the business arena, He called Tom back to school to earn a Master's degree in Christian Counseling & Discipleship. During this time, God put a driving desire in Tom's heart to do and teach evangelism. Tom helped an outreach organization in Baltimore achieve tax-exempt (501c3) status with his business background while expanding and stretching his evangelism calling as an instructor in evangelism.
To further equip himself in ministry, Tom registered for the evangelism training sponsored at Washington Bible College as a summer modular course while attending Capital Bible Seminary. It was there that God continued to direct his path to OAC to fulfill His calling to do and teach evangelism. Tom serves as Personnel Development Director and shares a seat on the Management Team overseeing OAC endeavors in the United States. Tom also serves as the North America Caribbean Zone Director for Open Air Campaigners International.
After graduating Capital Bible Seminary with a Master's Degree in Christian Counseling & Discipleship, Tom began teaching as an adjunct professor at Lancaster Bible College, Adult Undergraduate Degree studies at the LBC-DC campus. Tom teaches courses in the social sciences that include ethics, psychology, sociology, and systems of counseling. Tom also teaches evangelism to Native American students at Indian Bible College, Flagstaff, AZ. Completing his core courses for a PhD. in Leadership from Capital Bible Seminary and Graduate School, Tom is in the process of writing his dissertation to conduct future research in spiritual formation in education.
Tom currently serves as an elder at their home church, Belcroft Bible Church. Tom and his pastor have been traveling the globe visiting missionaries supported by their church in a ministry of encouragement and accountability. After faithfully serving alongside Tom in ministry for over 11 years, Barbara was graduated to Heaven after a two-year struggle with incurable disease. We rejoice in Barbara now experiencing the reality of Revelation 21:4.
BIRTHDAY:
Tom 7/24