ON STAFF SINCE 2015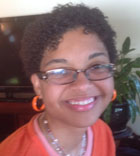 Rebecca trusted Christ as a child and was blessed to grow up in a Godly Christian home. Her father serves as a pastor and so Rebecca grew up surrounded by believers and Bible-teaching. She grew up in and is currently a member of the Tree of Life Fellowship in Maryland and loves to help out with the audio staff and as administrative assistant activities in the church. She likes writing, drawing, current events, history, exploring new things and meeting new people.
Rebecca participated in our Baltimore/DC area Sketchboard Evangelism Training (SET) in 2012. God convinced her after speaking to an adult crowd in Annapolis Maryland on the final night of the SET that she could be involved in this ministry for the rest of her life!
She participated in our Orientation-Candidate School in June of 2015 and was appointed to OAC staff at the end of that time. Rebecca ministers with our OAC staff in the Baltimore/DC region and looks forward to what God will do in and through her in the days ahead.
BIRTHDAY: January 28
Links: